FIVE FRIDAY FAVORITES #1:
Winter Themed Books
Five Friday Favourites is a weekly event hosted by Amanda, where once a week, a five favourites subject will be posted by me and everyone is welcome to join in.
You can find out

more

about Five Friday Favourites and the future subjects
here
.
Today, we are talking about winter themed books. I'll need a bit to search through my Goodreads... Let's see... I found five books that fit pretty well in this category. Some of them could be given as gifts, some could be read on the sofa next to the Christmas tree, some could be devoured like food no matter what season is.
First of the five would be...
Between the Shades of Gray, by Ruta Sepetys.
I've read this book at the end of September this year after long months of craving for it. It was worth craving. The story takes place during several months, but considering it is in Russia for two thirds of it... I'd say there's plenty of snow there.
Thank you so much,
Arianna
, for lending me it. I simply loved it and if you want something about the Second World War that is even better than the Book Thief,
Between the Shades of Grey
is your choice. Lina's got a beautiful voice and she makes sense!!! That is rare for a heroine living the hardest days of her life. Sepetys' writing gives you in a clear vision every single thing that is happening.
I've read this book in two days, back in April. This is yet another book that I had to devour because of how good the story is, because of how well the writer writes, because of the unbelievable genuine beauty is has good. If I Stay made my spring better. It is a celebration of life, worth reading multiple times.
The action takes place in February, which is the last month of winter. You know, all I am thinking about is Mia's father's brains on the snowed street. I am a creepy person, I know that. Anyway, I consider it fits perfectly here.
And it's a must-read guys. And it's super short. If you read it, you should see the movie. If, like me, you've already seen the movie too, YOU ARE AWESOME!!! If you stay, you stay!!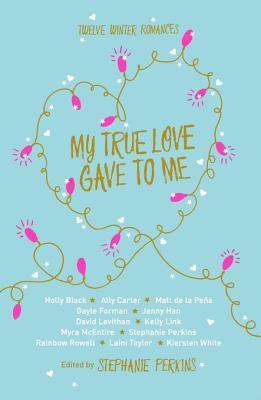 My True Love Gave to Me
, by
Holly Black, Ally Carter, Matt de la Pena, Gayle Forman, Jenny Han, David Levithan, Kelly Link, Myra McEntire, Stephenie Perkins, Rainbow Rowell, Laini Taylor
and
Kierstein White
.
Okay, I am cheating. I've got this book on my shelf. And I am about to start reading it. But without having yet read it, I know this is perfect.
I'm going to take some tangerines, some cinnamon, my fluffy shoes and a red blanket, and, on the sofa in my living-room, next to the Christmas tree, I am going to devour this too.
Gayle Forman wrote the masterpiece just above. Carter, Han, Perkins, Rowell, Taylor and White are authors whose books I'm craving for. The rest are too so big names.
It is impossible for this not to be good.
This book takes place during Christmas and a bit after. It is a beautiful thing that made me cry a year ago. The youthful image of Christmas lived by four sisters that cannot imagine one without their all family gathered and happy.
I live for good books. And one that makes me cry and makes me love the fact that I am always with my dear family and with my most beloved people is more than good.
A book like this one is supposed to live for generations and I promise, I swear to God, trust me!, that I will have my kids read this too. Lots of books get lost in the records of history, but life-celebrating stories like this one hardly ever will.
In fact, I have got no idea if this takes place during winter or not. I know I read it in September last year and it somehow looked like winter to me.
It's something that fits in all seasons, thus winter too. Plus, the cover of the Movie Tie-In Edition is winter-themed.
I do not care about supposedly cheating here because this isn't winter-themed. I found it quite hibernal... Or not! It's dynamic and it is full of life, and nostalgy and wonder. It is a good book that you should read.
I had to read this book because of my great passion I have for Japan. I love this country and a book written by a Japanese guy was a great satisfaction.
The universe is stunning. Thought I'm not a big fan of how Watanabe resolves his problems, I enjoyed the book, as much as I could.
One way or another, I am putting this book here. Like it or not!!
So, these are my choices for FIVE WINTER-THEMED BOOKS!! Tell me in your comments: have you read any of those five? If yes, did you enjoy them?

Are they winter-themed as I said?