I'm so not prepared for the change. 2014 was a year of madness and I loved it. I heard some of the greatest songs, I read some of the best books, I saw some of the greatest movies, I started watching some of the coolest new TV series, I met some of the craziest people and I lives some of the happiest moments of my life.
BEST BOOK OF 2014 is ... Of Metal And Wishes.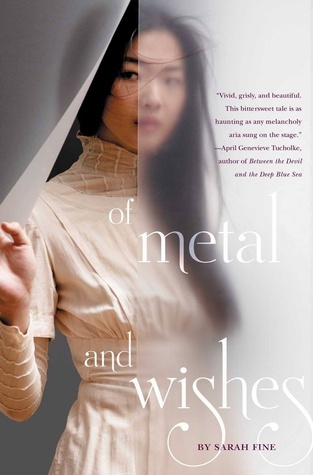 I've only got three books on my best-reads-and-favorites shelf on Goodreads for some very simple reasons: 1. Liked are the most, but favorites are a few! 2.I must be profoundly impressed and marked by a book to name it a favorite. 3.My favorites are books I can recommend to my sister who reads only Garcia Marquez, Dostoievsky and Kunder and thinks everything else is crappy. And out of those three books on this shelf, Of Metal and Wishes is the only one released in 2014 (The Shadow Thief was released in 2010 and Between the Shades of Gray in 2011). It's a retelling that retells you nothing, it TELLS you a whole new story. The only similarity is the fact that there's a supposed Ghost/Phantom that haunts the place the book's set in. IT IS SO GOOODDDD!!!
BEST SONG OF 2014 is... (without any doubt) Take Me To Church.
Truth be told, it took me ten minutes to choose. I had to choose between Chandelier (SIA), Stay High (Tove Lo), The Hanging Tree (Jennifer Lawrence), Cayendo (Deorro), Cool Kids (Echosmith), Today (Jamie Blackley), Jealous (Nick Jonas), Fight Song (Rachel Platten), Begin Again (Rachel Platten), Heal (Tom Oddell), Boom Clap (Charli XCX), London Queen (Charli XCX), Junjou (Ieiri Leo), Say Something (Christina Aguilera & A Great Big World), Don't (Ed Sheeran), SING (Ed Sheeran), All of the Stars (Ed Sheeran), Meltdown (Stromae & Lorde & others), Bela Lugosi's Dead (CHVCHES), Dollhouse (Melanie Marquez), All About that Bass (Megan Trainor), All of Me (John Legend), Rude (Magic), Hey Brother (Avicii), Pompeii (Bastille; in spite of having been released in 2013) and, of course, THE MAN (Aloe Blacc). I guess you needn't me to continue. My fingers are aching, but the list can go on!!
BEST MOVIE OF 2014 is... (with absolute NO-doubt!) Grace de Monaco.
Start judging me! I watched it and loved it! I just couldn't choose Divergent, If I Stay or The Fault in Our Stars, in spite of being the best YA adaptations of 2014. (Maze Runner and Mockingjay do not count since I haven't seen them yet! Kill me now please! - I have no interest in watching Mockingay without RO-subs and they won't appear in HQ up until the DVD is released, and I have got to read the TMR book first). Anyway, out of the movies that I watched this impressed me because I expected it to be a mess, literally, and it wasn't, while I already knew IIS and TFIOS weren't messes. I freakin' loved this movie, so judge me, kill me, I'll still like it a lot. And believe me, I started liking Nicole Kidman after this.
BEST NEW TV SERIES OF 2014 is... (I'm putting my life on the line here!! because I so freakin' believe this!) The Flash.
Barry Allen, the fastest man alive, you know the story!
But seriously this is worth watching! I am a girl and I like nice romances in which people cuddle, and I love this! I am a bloodthirsty fangirl that loves seeing bloodspilled and zombies and have just started watching the Walking Dead too, and I love this!
I am so in love with Barry Allen and this TV series, and I know love is just a shout into the big mass of fandoms and that eventual oblivion of one small TV series may be inevitable, and that we are all doomed and there will come a day when all our fandoms have been returned to dust , and I know the sun will swallow the only earth you'll ever be able to watch TV shows on, and I am in love with Barry Allen and this TV series
. (
PUN SO INTENTED!
)
2015, you better be good! Goals:
WRITE THREE BOOKS (in July, September and November)
Read more (60 books in 2014; 80 in 2015, I hope!)
Write more books
Catch up with the Reign, Vampire Diaries, How to Get Away with Murder, Arrow, Downton Abbey
Write more books
Finally get to high-school!
Watch The Last: Naruto the Movie!
Start learning spanish.
Eventually start to blog frequently.
Get a boyfriend!!!!!
Write more
and
WRITE EVEN MORE! Dudes, I wanna be a writer!!!
Did you like 2014? What are your hopes for 2015? Tell me everything!!!!!!!!!